Exclusivity
All our horse logos - like every logo on this web site - are Biz-Logo originals, created in-house by our own design team.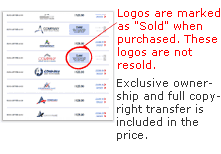 Changes

When you purchase one of these horse logos you can specify the text, font, colors and layout that you want. We will send you a preview of your horse logo within one business day. The preview will show the horse logo as you ordered it as well as some ideas for possible enhancements or variations that our design team comes up with. We will then work with you to refine your horse logo until you are 100% happy with it. We only finalize it when you tell us to. See an example here.
Guarantee
We offer a 30 day, unconditional, full money-back guarantee. No questions asked, no service fees, no fine print. More details here.
Clip art

There are some truly beautiful horse clip art images available out there on the Net, but using any of those in a horse logo design would defeat the purpose of the logo. Logos must be unique to the business that they represent. Horse clip art or templates are not unique. We never use clip art or templates in our horse logos - or anywhere else for that matter.
Logo File Formats

Final logo delivered in:
Additional formats on request at no additional charge.
We will also send you a grayscale version and a black and white version of your logo.


I have to say that I like the way you conduct your business. Very fast, top notch service, direct communication and personal input. Lots of choices at a super low price! Couldn't ask for a better deal!"
THOMAS STEVENS
TNS CONSTRUCTION CO.
>> MORE TESTIMONIALS

Note About Horse Logos
We take extreme pride in our logos. We believe that these horse logos are a cut above what you'll find on the web sites of our competitors. To ensure that our horse logos are unique and are truly professional quality designs, each and every logo is aproved by our company owner before being uploaded to Biz-Logo.com.