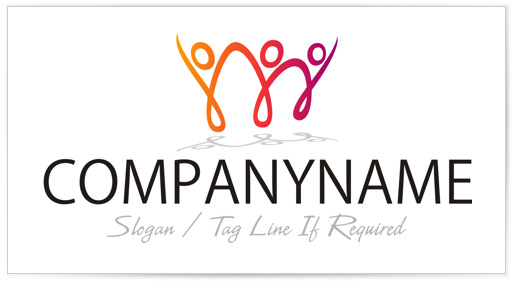 Let's take this logo as an example.
This is a real pre-designed logo that was sold on Biz-Logo.com. The design here is exactly as it appeared on our site. It's a pretty cool logo (if we say so ourselves) so it was sold soon after we uploaded it.
Step 1
First up, that logo is marked as sold on the web site.
This is important to us. It's what sets Biz-Logo apart. We sell each logo only once. You own it and you own the exclusive copyright to your logo.
Your logo will never be for sale again, unless you sell it!
Note though that this is a manual process, for several reasons, so it's not instant. Our admin guys will receive and verify your order and our web guys will mark it as "Sold" soon after. You can rest assured though that once you submit payment, it's yours. If we receive two orders for the same logo before we get around to marking it as "Sold", the second order is refunded in full.
Our admin guys will also set up your Biz-Logo client account and email you the username and password - and you'll receive an email from Andre, Biz-Logo's owner, to confirm your order and to give you his direct email address.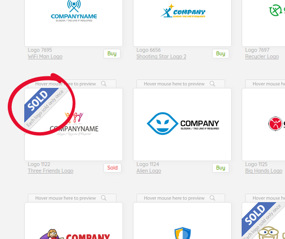 Step 2 (within 1 business day)
About 1 business day after your order our designers will upload the first batch of designs to the client area. This is a special section of the Biz-Logo site where you can log in to privately view the designs and communicate with the design team.
In this first preview the aim is to insert your company name (and slogan if you have one) and to show you a couple of layout options.
This is also where we start to experiment with colors and fonts.
You can specify your color and font preferences when you order, or you can leave it up to our designer to suggest colors and fonts for your approval.
Our designers will also follow any other instruction you typed on the order form.
For example:
"I'd like to see it in the original colors, but also show it to me in blue & green."
Or:
"I think it looks great with the logo above the company name, but I might want it to the left of the company name for my letterheads. Can you show it to me both ways?"
Just about anything goes. We'd be happy to make any variations you'd like to test before picking a winner.

Step 2 ...continued...
Once we receive your feedback on the first batch of designs, we get started on the next batch.
There is no point where you have to "take it or leave it". We will keep tweaking your logo until you are 100% happy with it.
In this case the client settled on the colors, but wanted to test more font and layout options. You are welcome to either be very specific: "I want the font 'Microgramma" and I want it with the first letter bolder than the rest and in purple" or you can make our designers work a little: "I think the first letter should stand out more".
Normally we prefer specific feedback. If you just say "Nope, don't like it. Try again. I'll know it when I see it", that leaves our designers in the dark. There are simply too many options to work through in a lifetime.
On the other hand, try to leave a little room for the designers to do what they do best. They're a creative and very experienced bunch. If you pin them down too much you are missing out on cool suggestions that they might have.
It's a good idea to give specific feedback but to also ask your designer to show you the logo in any font or color or layout that they think works best.

Step 2 ...continued some more :)
It's OK to change your mind!
After seeing the previous batch of designs, the client decided that design C in the first preview is the better option. We don't mind. We keep backups of everything, so it's easy to fall back on a previous version of your logo.
This process of revisions/refining continues as long as it takes. You receive unlimited revision and that's included in the price of the logo. We want you to love your logo rather than just settle on one that's "good enough".
Having now selected the colors, the client wanted to test the logo with and without the name and also with and without the shadow below the people. The client selected design B in this batch and asked us to finalize it.
Note: we removed some previews to keep this page short. We actually did 5 previews for this client. The one shown here is number 5. On average we do about 3 previews before the client picks a winner, but there's no limit. We only finalize the logo when you tell us to. We've had clients who needed to see 20+ previews (about 80 variations of the logo) and we have clients who pick a winner from the very first preview. We'll work with you, testing all the variations you need to see, until you say the logo is perfect.
OK, so what happens when we "finalize" a logo?
See below...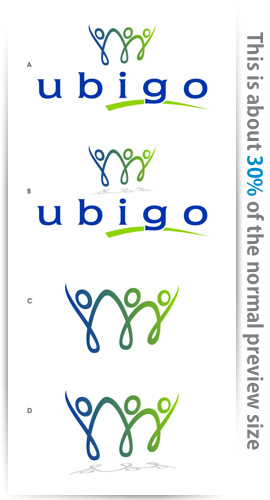 Step 3 ...Finalizing the logo
When we finalize a logo we first have a "clean-up" session where we check things like colors, alignment etc., just to make sure it's all perfect.
Then we reproduce the logo in a range of different formats and optimize each of them for a specific use.
The logo formats we provide as standard are:

Vector EPS/AI/CDR


PDF


JPG (300 dpi, full color)


JPG (300 dpi, black and white)


JPG (300 dpi, grayscale)


PNG (transparent background)


GIF (transparent background)


PSD (layers preserved, 300 dpi)
We can also provide:

TIFF


BMP


SVG


SWF
or just about any other image format known to man. No additional cost for additional formats!
The final logo files are zipped and uploaded. You can download it directly from the Biz-Logo client area - and re-download later if needed.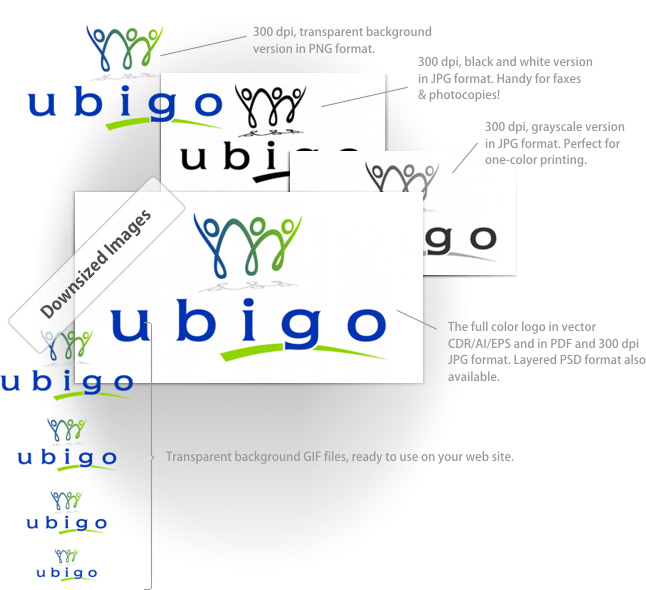 Ok, but how much does all this really cost?
Just the price of the logo.
The whole process explained above is included in the price. The price displayed on the web site is the full price. No hidden fees or surprises.
You will only pay more if you want more than one logo. For example, if you want the full set of files with the company name included and another full set of files with only the logo image, that would cost an extra $50.
How long will the process take?
That depends.
Every time you ask for revisions our designers will have one business day to make those designs and get them to you. We don't guarantee that it will always be one business day - some days are simply busier than others and our policy is to put quality above speed. If you have a specific deadline, please mention that on the order form. We will, within reason, adjust our schedule to fit yours.
On average it's about a week from the order to the final logo, but it depends on how many times you send it back for revisions.
Questions?
Please see our frequently asked questions or contact us.