Exclusivity
Our animal logos and pet logos (and all logos on Biz-Logo.com) are 100% original, designed in-house and are exclusive to Biz-Logo.com.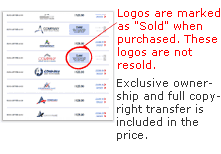 Changes

When you buy one of these animal logos from us, we will work with you to make changes to the colors, text, fonts and layout. There's no limit. One of our professional designers will work with you to until you are 100% happy with the logo. This is included in the price. We only finalize the logo when you tell us to.
Guarantee
We offer a no-nonsense 30 day money-back guarantee on all our design work. More details here.
Case study
Check out the pre-designed logo process in action!
Clip art

Clip art and professional logo design are simply not compatible. Clip art is re-used by many people in many applications. Logos on the other hand are exclusive to one company. We do not use clip art or templates of any kind - not in these animal logos, any of our other logos or any design work we do.
Logo Formats

Your final animal logo will be delivered in CDR, PDF, PNG, JPG and GIF formats. Additional formats on request at no additional charge.
We will also send you a grayscale version and a black and white version of your logo.


"Thank you very much. The service you gave me exceeded my expectations by far. I will definitely use your services again in the very near future for other projects we have. Also, I will recommend your company to other business partners."
LESTER MIRANDA
EXPERT SOFTWARE SOLUTIONS, INC.
>> MORE TESTIMONIALS

About Animal Logos
Pet food logos, pet sitting logos and vet logos are the ones that most often feature animals, but animal logos are great for just about any business. The main benefit is that the animal in the logo says something about the company and imparts some of its magic to the company. A lion logo, for example, can work for anything from a bank to a PC rapair service. The same goes for any other animal. The choice of animal depends on the image that the company wishes to portray.
If the animal that you want for your logo isn't in our collection to the left, consider ordering a custom animal logo instead.