Exclusivity
Each one of our eagle logos are created in-house by our very own logo designers and are exclusive to Biz-Logo.com.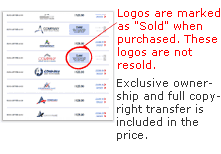 Changes

These eagle logos are not sold "as-is". When you order an eagle logo (or any other logo from Biz-Logo.com) one of our in-house designers will first send you a preview showing any changes to the colors, fonts, text and layout that you requested. Your designer will also include comments/suggestions. That designer will stick with you to make additional changes if needed. No limit here. If you are not completely happy with your logo or you just need to see it in different shades of blue, send it back. We will keep at it until you are 100% happy with the way your logo looks. We only finalize the logo when you tell us to.
Guarantee
100% money-back guarantee valid for a full 30 days. No questions asked. No fine print. More details here.
Case study
Check out the pre-designed logo process in action!
Clip art

No clip art or templates used in any of these designs. Our eagle logos are all created from scratch and by our own design team.
Logo File Formats

Final logo delivered in:
Additional formats on request at no additional charge.
We will also send you a grayscale version and a black and white version of your logo.

"I'm very satisfied with the logo and your work with it to make it fit with the company name. It's actually the first time I handed all work over to someone else without having any requests at all. It was perfect from the start."
HENRIK JOHANSSON
AS-SYSTEMS
>> MORE LOGO DESIGN TESTIMONIALS

About Our Eagle Logos
The quality of our logos is what has kept us a step ahead of the competition since 1997. With regard to our eagle logos, we don't "churn them out". We take our time and ensure that every eagle logo we design is on par with the Biz-Logo quality standard. The same goes for all our work.
The eagle logos to the left were individually approved for publication on Biz-Logo.com by our company owner.
Be sure to also visit our portfolio for examples of eagle logos designed by the Biz-Logo team.
Eagle logos are very popular and for good reason. The eagle represents not only America but also qualities such as freedom and power. The eagle logos shown here are for sale (unless it says "Sold" next to the logo). If you see one that you like but there are things you want changes - like colors or font - we'll probably make those changes free of charge. Click on the logo to see what changes we will make at no extra charge. If you want an eagle logo or something very specific like an American bald eagle logo in blue and red and you can't find it here, take a look at our custom logo options.