Exclusivity
Our residential and commercial real estate logos shown here are created in-house and are exclusive to Biz-Logo.com. Each logo is sold only once.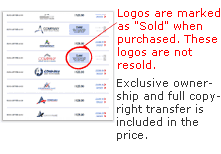 Changes

When you purchase a real estate logo (or any logo on the Biz-Logo.com site) you don't have to take it "as-is". We will work with you to fine-tune colors, text, layout, fonts etc. until you have your perfect real estate logo. We only finalize your logo when you are 100% satisfied.
Guarantee
Full, 30 day, unconditional money-back guarantee on all our logos. If the real estate logo you choose does not turn out perfect, we will refund your money. Every penny. No questions asked. More details here.
Case study
Check out the pre-designed logo process in action!

Clip art

We don't use clip art. Ever. Clip art defeats the purpose of a logo. Every real estate logo shown here was designed in-house, from scratch.

I know we are just finishing up my logo, but I want to mention how impressed I am with the service I have received from you. If you would, please show this e-mail to your supervisors. You have been so very helpful and I think my new logo is terrific. I really enjoyed working with you and I most sincerely thank you. Please take good care."
SAMUEL CHIMENTO
DR VINCENZO PROPERTY, LLC
>> MORE TESTIMONIALS

About Our Real Estate Logos
Whether residential or commercial real estate logos, we follow the same basic approach: We believe that a logo is a unique identifier for your real estate business. With the real estate market being a pretty crowded, competitive place, you need a unique identifier that will truly rise above the noise, whether on a letterhead or yard sign - or anywhere else. With this in mind we take quality control very seriously. Not only is every one of our real estate logos unique, but each and every logo has to be approved by our company director before being uploaded to this web site.


Real Estate Service Logo


Real Estate Solutions Logo


Real Estate Appraisals Logo


Real Estate Company Logo


Real Estate Development Logo


Real Estate Investments Logo


Real Estate Logo Design


Real Estate Management Logo


Real Estate Professional Logo
These represent a few of our recent real estate logo projects. Let us build your perfect real estate logo for you!