Exclusivity
The construction logos displayed to the left are all Biz-Logo originals and are exclusive to Biz-Logo.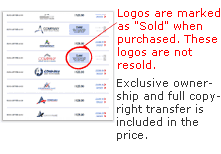 Changes

We will work with you to make changes to the colors, fonts, text and layout. We only finalize the logo when you are 100% happy with it. There is no extra charge for having one of our in-house designers refine the logo for you. It's included in the price.
Guarantee
30 Day, unconditional money-back guarantee. We make it easy for you to get your money back. More details here.
Case study
Check out the pre-designed logo process in action!
Clip art

No clip art or templates here. Our construction logos all start out on a blank piece of paper and are designed in-house by our own designers.
Logo File Formats

Final logo delivered in:
Additional formats on request at no additional charge.
We will also send you a grayscale version and a black and white version of your logo.


"Thank you very much for sending the logo files over...this couldn't have been easier. Your services are truly professional and I will refer people to your site."
Shakeh Avanessian
CITYRIDGE
>> MORE LOGO DESIGN TESTIMONIALS

About Construction Logos
Many of our construction logos shown here can also double as real estate logos. You should also check out our real estate logo section. Construction logos often make use of standard real estate images such as houses, roofs, buildings and skylines. While these standard images help place your logo in the construction industry it might be a good idea to avoid standard images in favor of a construction logo that rises above the noise. Can't find your perfect construction logo below? Have a look at our custom logo design options. Also see our "About Construction Logos" section further down. More constructions logos at ConstructionLogoDesign.com.