Exclusivity
Our medical logos, health logos and healthcare logos shown here are all designed in-house at Biz-Logo.com and are exclusive to this web site.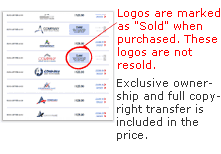 Changes

We will work with you to make sure that your medical logo is exactly as you want it. You may specify your own text, font, colors and layout. One of our designers will send you a preview showing the logo exactly as oredered. The designer will also include suggested alternatives/improvements and will stick with you to make additional changes and refine the logo until you have your perfect medical logo.
Guarantee
Our medical logos - like all our logos - are backed by a 30 day, full money-back guarantee. More details here.
Case study
Check out the pre-designed logo process in action!
Clip art

Clip art is great, but not for use in logos. In logo design each and every design must be unique. Clip art and templates on the other hand are resold/re-used. We do not use clip art or templates in our medical logos or any other design work.
Logo File Formats

Final logo delivered in:
Additional formats on request at no additional charge.
We will also send you a grayscale version and a black and white version of your logo.

"Wonderful!! This has been a fabulous experience. Biz-logo will go on my list of 'great customer experiences'. People who know me well know how difficult it is to get on that list so please take pride in the work you have done for me. You were responsive, professional, and helpful. Your communication abilities, given the virtual nature of the exchange, are exceptional."
CATHY ROMANKO
STONECREST CONSULTING
>> MORE TESTIMONIALS