Exclusivity
The landscaping logos in this section were developed in-house at Biz-Logo and are exclusive to Biz-Logo.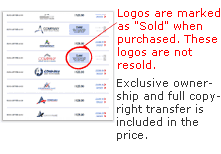 Changes

When you order one of our landscaping logos to the left you will have the opportunity to specify your own text, colors, layout preference and font preference. One of our in-house designers will then redraw your landscaping logo exactly the way you ordered it - plus some suggestions for improvements to or variations of the logo. See the logo design process in action.
Guarantee
30 day money-back guarantee. No questions asked. If you are not 100% happy with your new landscaping logo we will refund 100% of your money. No fine print. More details here.
Clip art

We do not use clip art or templates in our landscaping logos - nor anywhere else. Clip art and templates have their place, but logo design is not that place. Logos need to be unique, so using clip art or templates would defeat the purpose of the logo.
Logo File Formats

Final logo delivered in:
Additional formats on request at no additional charge.
We will also send you a grayscale version and a black and white version of your logo.


"Thanks so much for the helpful reply and quick turnaround. You guys are awesome. You need to include us in your testimonials. I've already told a bunch of small business folks about you. Thanks again for the great work at such a reasonable price."
KEN YUSKO
YUSKOGROUP
>> MORE TESTIMONIALS

About Our Landscaping Logos
While our prices are some of the lowest in the industry, our approach to landscaping logos - and logo design in general - is that quality and not price should be the final consideration. Your landscaping logo will represent your landscaping business for hopefully many years to come. Spending the extra time or cash to get it right is a good investment.
To ensure the quality of our landscaping logos, each one of them is approved by our company owner before they are uploaded to the Biz-Logo web site.