Exclusivity
Our church logos are unique to Biz-Logo.com, created in-house and each church logo is sold only once.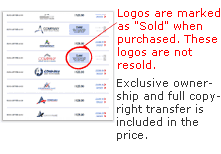 Changes

If you see your (almost) perfect church logo here, we will work with you to make changes to the colors, fonts, text and layout. One of our designers will send you preview images of the logo and will make recommendations on use of colors, the best layout etc. We only finalize the logo when you are 100% happy with it.
Guarantee
At Biz-Logo we believe that you should receive either your perfect logo from us or your money back. All of it. No service fees or admin fees - and no fine print. More details here.
Case study
Check out the pre-designed logo process in action!
Clip art

Church clip art has it's place. Church logo design is not that place. Clip art is re-used. Logos on the other hand need to be unique. The two are not compatible. We do not use clip art or templates in any of our church logos. Everything is designed in-house, from scratch.
Logo File Formats

Final logo delivered in:
Additional formats on request at no additional charge.
We will also send you a grayscale version and a black and white version of your logo.


"Thank you for your prompt and professional work. I've looked at a lot of 'church logo' web sites and what you offer is in a league of its own."
PASTOR BRETT CHAMPION,
GRACE COVENANT CHURCH
>> MORE TESTIMONIALS

All the logos on Biz-Logo.com are exclusive. Each logo is sold only once. If you are shopping around for church logos, please make sure that the logo design firm you select offers exclusive rights to the final church logo. If they do not explicitly state this then it would be safer to assume that their logos are resold.
If you see a church logo that you like but want little things changed like the color, the case of the font etc., click on it to see what changes we will make to that logo at no extra charge. In these logos, "Church Name" and the tagline can be replaced by whatever you want in that space. We can also leave it blank. Your call. See our church logos tips further down. If you cannot find a logo you like here, consider ordering a custom church logo. Of course a custom church logo will cost a little more, but the extra money buys you a logo designed from the ground up, to your specifications, specifically for your church. We will keep revising your custom church logo until you are 101% happy with it. For examples of our work, please check out our samples of church logos.
More Church Logos (off-site)