The making of a logo

Preview 1
The client ordered a custom logo. Within 2 business days of the order we sent her the first preview image shown to the right.
You will notice with the first preview we try to mix it up. The more variation we can show the client in the first preview the better. This makes it easy for the client to tell us what she likes and dislikes.
With this particular logo we came close with the very first design. The client liked design A, but also design D.
It's not uncommon for a client to explore two or more different directions - and at Biz-Logo that does not cost anything extra. In this logo the central theme (growth) stays the same, but it is shown both as stages of development in a human and in a plant.
Scroll down for preview 2...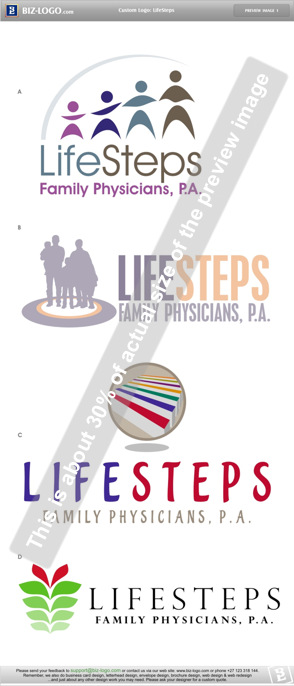 Preview 2
In preview 1 the client liked the people logo (design A) but wanted to see that concept in different layouts. She also liked the idea of the plant growth phases. So in this preview we took those two concepts and created some variations of each.
You'll notice that with this logo we narrowed it down to two concepts quite quickly. That's not always the case. Sometimes it takes many, many tries before we get the direction right - and we've structured our packages to accommodate this. If you need to see many concepts before deciding, Biz-Logo is for you.
Scroll down for preview 3..

Preview 3
Some interesting variations in this round.
The client wanted to continue with the leaves idea and with the human growth phases idea. Based on her feedback we created 3 variations of the leaves and 2 of the human growth phases. You'll notice that the last one in this image (Design E) is starting to look like the final logo.
Scroll down for preview 4...

Preview 4
Now we are down to fine-tuning.
In preview 3 the client selected design E. We agreed. The layout, colors and the "feel" are all great, but the client wanted to experiment with fonts.
The designs you see to the right are technically no longer concept designs. These are referred to as variations or alterations. At Biz-Logo you receive unlimited alterations, no matter which package you selected when you placed your order.
The same applies to our pre-designed logos.
We'll stick with you to refine your chosen concept until you are 101% happy with it. In fact, we urge you to take your time here. This is your logo after all. You brand. The face of your company. It is worth investing an extra week or two to test alternatives.
Scroll down for preview 5...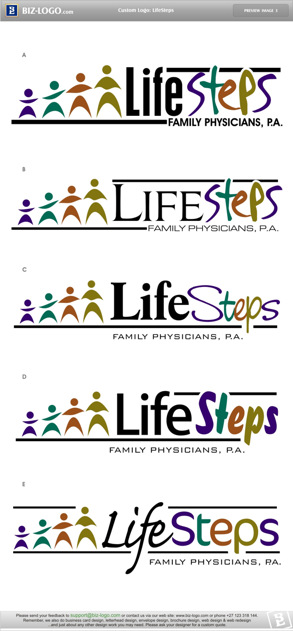 Preview 5
Some minor edits here. Having chosen design E in the previous round, the client wanted to see what the "Life" part would look like if it were slightly bolder.
Scroll down for the final logo..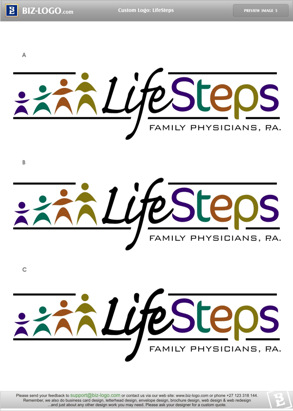 Final Logo
Tadaa! The final logo!
It might seem like a cumbersome process and we (and the client) worked hard to get it just right, but we think that's the right way to do it.
Average turnaround between previews is about 2 business days and the average total time from order to completion is about 2 weeks.
Some logos take much longer. It depends on you more than on us.
Sometimes we hit the mark on the very first preview and no alterations are necessary. Sometimes the client keeps us busy for several months, testing different styles, colors etc. The great thing about working with Biz-Logo is that we understand that you need it to be perfect, but that you also have to work within a budget.

Click here for a VERY BIG version of this logo
Total Cost
There are no hidden fees. The cost of the logo package you select is all you pay, no matter how many revision rounds you need to go through before you pick a winner. Our design team will patiently work with you until you are in love with your logo!

View Packages and Prices