Pediatric Logo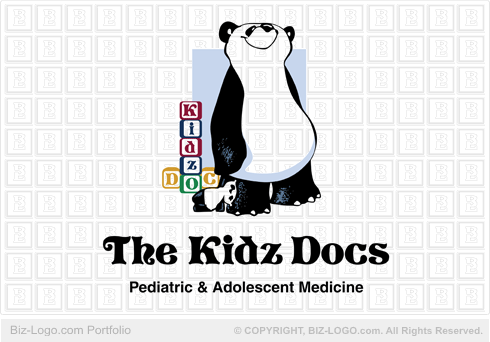 This logo is not for sale.
Similar logos are available in the pre-designed-medical category:
More Medical Logos
Pediatric Logo
Image file: pediatric-logo-repair.gif
This logo was done by our Biz-logo.com team.

Our client chose one of the custom packages that we offer and this enabled them to receive variations of their design concept. The logo consists of text and cartoon design elements.

The logo features a cartoon mother panda bear standing upright on her behind legs smiling and a cartoon baby panda bear crawling on his knees towards his mommy. This shows us an element of care, protection and a mother/infant bond.
In the background there are building blocks with different letters of the alphabet on which indicates that this logo is aimed at viewers with infants. These blocks were also used to make the company name stand out in a different way.

The text in the design is right below the cartoon panda bears. Each word is over sized compared to the tagline of the company and all the wording is black and bold.

This logo has no drop shadows and it is not for sale.

More Case Studies
More from pre-designed-medical
Pre-Designed Logos
Custom Logos