Web Hosting Genet Logo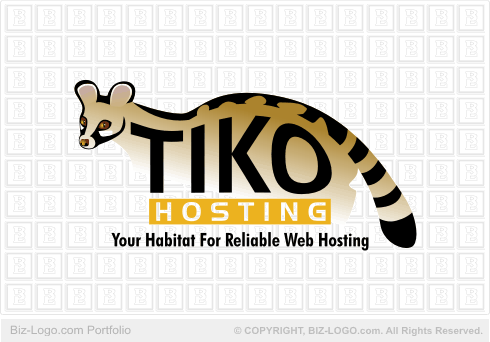 This logo is not for sale.
Similar logos are available in the pre-designed-cat04 category:
More Animal Logos
Web Hosting Genet Logo
Image file: web-hosting-genet-logo.gif
Our client ordered the Silver Package from the Biz-Logo.com website. This Package offered 15 unique concept designs to choose from.

The price of this logo design package is $299-00 (USD). The turn around time is 2 business days between revisions.

The image of the Web Hosting Genet Logo is an African genet. The animal design is colored in the typical color scheme which is brown, light brown and black. The most prominent markings of the African genet is the white patch underneath each eye. The animal faces left. The tail of the animal is sloping. Only the upper portion of the animal is designed, leaving space for the design of the name of the company.

The name of the company is designed onto most of the left side of the body of the African genet. The name consists of two words. The first word is designed in bold capital letters. The second word is designed underneath the first word in white capital letters, boxed in by an orange casing.

The tag line is designed underneath the logo. The Web Hosting Genet Logo has no border lines.
More Case Studies
More from pre-designed-cat04
Pre-Designed Logos
Custom Logos