Exclusivity
Each logo on Biz-Logo.com is designed in-house and from scratch.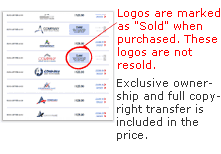 Changes

When you order one of our swoosh logos - or any other logo offered on Biz-Logo.com - one of our professional designers will work with you to refine the logo until perfect. You can specify your own colors, fonts, text and layout. Don't hesitate to ask your Biz-Logo designer for his/her advice, variations and options. We often suggest changes to the logo based on our experience of what works best, but the final decision is still yours. We only finalize the logo when you are 100% happy with it.
Guarantee
100% satisfaction or 100% refund. Valid for 30 days. No fine print. More details here.
Case study
Check out the pre-designed logo process in action!
Clip art

We do not use clip art in our logos or in any of our design work.
Each logo is drawn in-house and starts on a blank piece of paper.
Logo File Formats

Final logo delivered in:
Additional formats on request at no additional charge.
We will also send you a grayscale version and a black and white version of your logo.


"I received the logo files this morning, thank you. Just a note: It has been an extreme pleasure working with you. You and your staff are professional, courteous and helpful. We have worked with many businesses and vendors, and yours is by far, top notch. Thank you for the high quality work and service."
CHRIS WEHSE
LEADING EDGE REALTY
>> MORE TESTIMONIALS