Pet Equine Hospitals Logo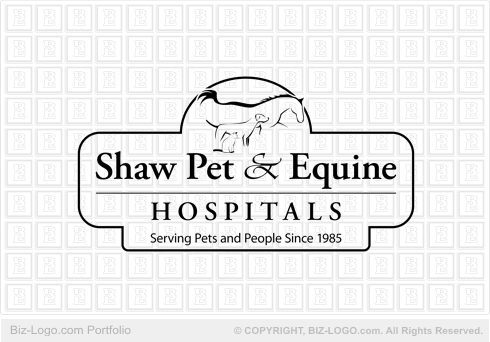 This logo is not for sale.
Similar logos are available in the pre-designed-pet-logos category:
More Pet / Vet Logos
Pet Equine Hospitals Logo
Image file: pet-equine-hospitals-logo.gif
Our client is from Saanichton, BC V8M1S8, Canada.

The Pet Equine Hospitals Logo is the image of a horse a dog and a cat. The cat, of course is sitting. The horse is created in standing posture. The dog is also designed in the same posture. All three animals are facing in the same direction and that is to the right of the viewer.

The posture of the horse is called strut: to walk with pompous bearing. Beautiful! The dog is poised in a watchful posture and the cat, of course is quite relaxed!

A border surrounds the three animals. The border is toned in an old fashioned photo frame, bringing back many happy memories of one's own pets.

The name of the veterinary hospital is designed
below the three animals. A horizontal line runs between the name of the owner of the hospital and the word hospital. The strap line is designed below the word hospital.

The logo is colored black and white.

What a fine example of the love between man and his pets!!!


More Case Studies
More from pre-designed-pet-logos
Pre-Designed Logos
Custom Logos