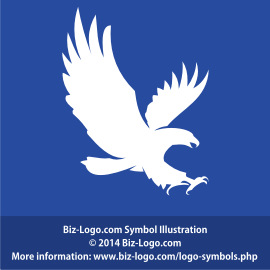 View All Symbols
Like this symbol?
Download it free:

eagle Logo Symbol EPS

eagle Logo Symbol AI

eagle Logo Symbol PNG

eagle Logo Symbol PSD
Eagle

Modern meaning
The eagle is, understandably, a common symbol in modern logo design. Not only a powerful symbol of America, the eagle is universally considered a positive symbol, associated with freedom, power and majesty. If the eagle as a logo symbol has a drawback, it is that it is very common. Care should be taken to clearly differentiate a new eagle logo from the myriad that has come before.

---

Historical meanings
power freedom speed sun sovereignty

In the Chinese tradition
sovereignty

In the Egyptian tradition
sun
---

Our rating for this symbol: Great
Our eagle-related logos

More symbols and their meanings