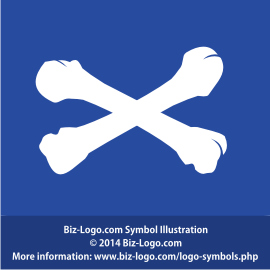 View All Symbols
Like this symbol?
Download it free:

Bones Logo Symbol EPS

Bones Logo Symbol AI

Bones Logo Symbol PNG

Bones Logo Symbol PSD
Bones

Modern meaning
Traditionally bones are symbols of danger. In our time, largely thanks to or at least popularized by Hollywood, bones are widely associated with pirates, especially when shown with a skull.

In modern logo design bones are quite rare, most commonly found in dog-treat or dog-food related logos.

Traditionally there is a degree of duality with regard to the symbolism of bones in that they can both represent death but also the (seemingly) indestructible part of life which endures beyond death.

---

Historical meanings
danger destruction mortality
---

Our rating for this symbol: Bad
Our bone-related logos

More symbols and their meanings