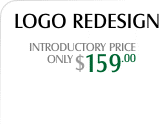 Your money buys you
5 Concept redesigns. Your 5 redesigns can either be closely based on the original or we can experiment with some options, as in the example to the right. Your call.
You then select one of the 5 redesigns - either as is or you can request alterations. There is no limit on the number of alterations. We will keep at it until the logo is perfect.

All the formats... and then some!
In short, we guarantee that you will be able to use the final, redesigned logo on anything. We once had a client who wanted her logo in the correct format for engraving on their workshop tools - and she wanted one for the side of the company motorhome. Biz-Logo provided both of these in addition to our standard formats. The standard formats that we deliver are: JPG, PNG, GIF, CDR and PDF. If you need the logo in any other format such as PSD, EPS, AI etc., please ask. No charge for additional formats.

What we need from you
To qualify for this package you must have an existing logo to use as a starting point. That's it. The size and quality of your existing logo does not matter.
If you do not have an existing logo, have a look at our pre-designed logos instead.

Get started
Fill out the form below. The more detail you provide the better. On the next page, submit payment and you're done. We will send you the first batch of concept designs within 2 business days.